Last week I visited the National Gallery of Ireland in Dublin where I came across this item (with apologies for the atrocious photography). A wax model, housed in a wooden box, of Rose Bruce née Rainey (1728–1806), the widow of Samuel Bruce, a Dublin Presbyterian minister, seated and wearing her matron's cap, ruffled lace collar and fingerless mitts, made by Catherine Andras, who, the accompanying caption told me, regularly exhibited at the Royal Academy of Arts, London and in 1802 was appointed Modeller in Wax to Queen Charlotte. The model was made from life in 1799 while Mrs Bruce was in London visiting her son Robert.
A much better image is on the website of the Yale Center for British Art (it's actually of a copy of the model) but for copyright reasons I can't include it in this post. You can view it here: collections.britishart.yale.edu
A little wooden box with a doll-like figure in it seems such an odd, almost random object to hang in a gallery that has Hogarths, Fragonards and Gainsboroughs on the walls.
Certainly I did not know that wax portrait modelling was seen as anything other than 18th-century 'pop' art; that is, loved by ordinary people but not necessarily by the Academicians of London. After all, in 1802, when Andras was being patronised by the Queen, the French refugee Madame Tussaud was exhibiting her waxworks at the Lyceum at the invitation of a magician and showman, Paul Philidor. Wax, I thought, was decidedly down market.
Clearly, there was more to know more about this medium and how it was viewed. To begin with, who was Catherine Andras?
1
Born in Bristol in 1775 and orphaned at an early age, Catherine and her three sisters kept a perfumery and toy shop in the city. She taught herself to model in wax, achieving success – and a growing reputation – when she began to supply products in bulk to travelling fairs.
Some time after August 1796, when Catherine was about 21, she went to London seeking an introduction to Robert Bowyer (1758–1834), who from 1789 was Miniature Painter in Ordinary to George III. 2Bowyer instantly recognised Catherine's talent but he and his wife Mary Shoveller must have connected with this young woman on a deeper level. Their 19-year-old daughter Harriet had just died and they adopted Catherine as a daughter. 3
Among Catherine's subjects for her pink-wax low reliefs were the founder of Methodism John Wesley and the Polish General Tadeusz Kościuszko but it was her commission in 1800 to model the five-year-old Princess Charlotte, probably obtained through Bowyer's royal connection, that brought her to more general notice. Other subjects in Andras's long career included Charles James Fox, Pitt the Younger, the Duke of Wellington, Sir Walter Scott and Hannah More.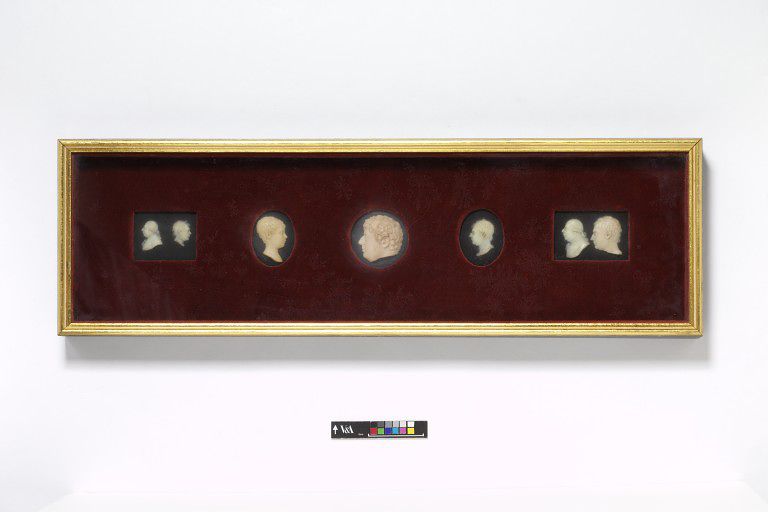 Wax portrait modelling started at the beginning of the 18th century and remained popular into the 19th. The images were quick and easy to make and pleasingly sharp. To produce them a model was first created in plasticine or soft wax, from which a plaster mould was taken. Into this was poured molten wax. The resulting form was hand-finished. Sometimes extra items such as textiles, seed pearls or coloured glass were added. Andras liked to include eyelashes and brows. The portraits were regarded in the same way as miniature paintings or cameo silhouettes – they were a cheap way to disseminate a personal image – but they were also judged on artistic merit. The Royal Academy of Arts included them in shows and Catherine Andras first exhibited there in 1799.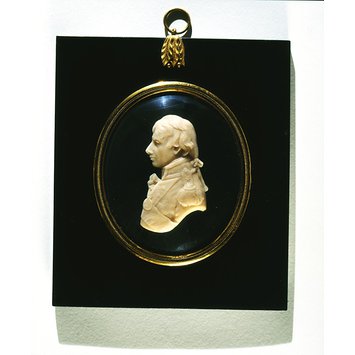 In 1802 Andras was appointed Modeller in Wax to Queen Charlotte and in the same year awarded The Larger Silver Pallet by the Society for the Encouragement of Arts, Manufactures and Commerce for her model of Princess Charlotte and for a portrait of Horatio Nelson, a job that probably came through Bowyer, who had been commissioned to paint a miniature of the naval hero. Nelson, sitting simultaneously for Andras and Bowyer, is said to have quipped that "he was not used to being attacked in that manner starboard and larboard at the same time."
Nelson's funeral in 1805 was at the rather sparsely decorated St Paul's Cathedral rather than Westminster Abbey, which for centuries had been the traditional resting place for military heroes but which was now rather over-filled with memorials. Vast crowds lined the streets on the day and afterwards, at a price of tuppence per person, thousands of visitors viewed the distinctive hearse based on HMS Victory on which the coffin had been pulled. The Abbey, determined not to lose out on lucrative tourist business (canons and vergers made a tidy living from showing visitors around the tombs), decided to commission Andras to create a life-size wax effigy of Nelson, which was hastily put in place (it was on show by spring 1806). Nelson's figure wore a uniform decorated with medals and shoe buckles supplied by the Nelson family.
Nelson's mistress Emma Hamilton regarded Andras's work as the most accurate likeness of Nelson, above all painted portraits: "in the direction & form of the nose, mouth and chin … the general carriage of the body was exactly his… altogether the likeness was so great it was impossible for anyone who had known him to doubt about or mistake it." She remarked that the hair was not quite right and was allowed to rearrange a lock of it.
4
Catherine Andras was active until 1855, dying in London in her 80s.